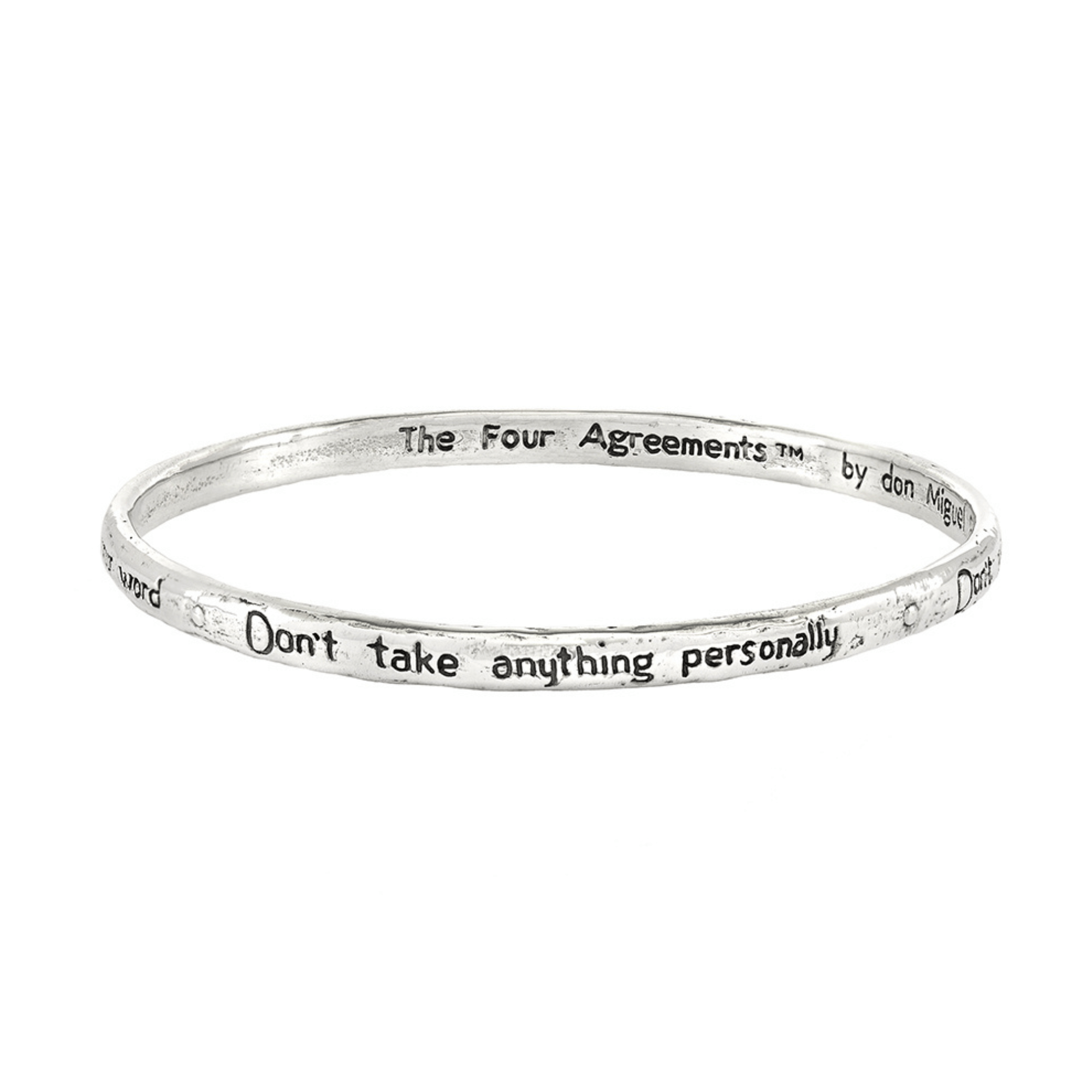 The Four Agreements Bangle
$41.00 USD
Regular price
$64.00 USD
Item is in stock
Hurry, Only

13

Left!
Item is out of stock
Item is unavailable
Description

Symbolism

Materials

Measurements
Embrace the profound wisdom of The Four Agreements with an everyday bangle that serves as a constant reminder to reconnect throughout your day and stay focused on your intentions. As you internalize the teachings of this renowned best-selling book, you'll experience a heightened sense of calm, surrounding yourself with its transformative power as your relationships transform in positive ways.

Engraved Text: 
Be impeccable with your word
Don't take anything personally
Don't make assumptions
Always do your best
*****
Don Miguel Ruiz is the international bestselling author of The Four Agreements (a New York Times bestseller for over a decade) The Mastery of Love, The Voice of Knowledge, and The Fifth Agreement (with don Jose Ruiz). He has dedicated his life to sharing the wisdom of the ancient Toltec through his books, lectures, and journeys to sacred sites around the world. 
The Four Agreements, Copyright © 1997 by Miguel Angel Ruiz and Janet Mills. Published by Amber-Allen Publishing, Inc. P.O. Box 6657, San Rafael, CA 94903 USA www.amberallen.com.
Transformative path
Amplifies joy, peace, and harmony in your life and relationships
Choose from three options:
Solid Brass, enhanced with a clear ceramic coating, meticulously applied to prevent tarnishing and maintain its radiant allure for years to come.
Solid Bronze, complemented by a clear ceramic coating that ensures its lustrous appearance remains untouched by the passage of time.
Solid 925 Sterling Silver
• Size Small, Diameter 2.4" | 6.1 cm , Circumference 7.54" | 19.15 cm
• Size Medium, Diameter 2.58" | 6.5 cm , Circumference 8.1" | 20.58 cm
• Size Large, Diameter 2.76" | 7 cm , Circumference 8.65" | 21.99 cm
*Sizing Note: For accurate bangle sizing, consider your hand, not just your wrist. Choose a bangle that comfortably passes over your hand and compare its diameter to our small (6.1 cm), medium (6.5 cm), or large (7 cm) options. This ensures a proper fit. Generally, the Medium size suits the average woman's wrist, while the Large size accommodates the average men's wrist.
Free shipping on orders over $100 in the US
The Four Agreements Bangle
$41.00 USD
Regular price
$64.00 USD
Care for Your Jewels
About 925 Sterling Silver, Bronze, & Brass
All Jewelry Evolution jewelry is made of either solid 925 Sterling Silver, solid Bronze, or solid Brass. All chains are solid 925 Sterling Silver.
These metals will take on a natural patina when exposed to moisture and oxygen. This is a normal and natural process, and cannot be avoided entirely. Generally, Sterling Silver will patina black, Bronze will patina black/green, and Brass will patina black.
Clear Coating 
We apply a clear hypo-allergenic coating to our Bronze and Brass jewelry, which delays tarnishing. This is applied with electric currents like plating, only clear. Because of this, it will eventually wear through, especially on surfaces that are constantly rubbing against your skin, such as the insides of rings and bracelets. 


About Patina & Cleaning Your Jewelry
What is Patina?
Patina, or oxidation, occurs when metals are exposed to oxygen. Certain things will affect the rate and extent of this process. This is totally natural and nothing to worry about when you notice it on your jewelry. Patina is typically surface-level only, and can be cleaned off to renew the shine of your jewelry.


What causes patina / oxidation?
Sweat, chemicals, strong scents, and especially sulfur will all expedite oxidation. Some people can wear silver chains, and the silver will remain shiny, and others can only wear a silver chain a bit before the chain turns black. This is due to the composition of the person's sweat and what kinds of strong scents or chemicals they are exposed to, including moisture & salty environments. It's a pretty unpredictable process.


Should I clean the patina?
Patina on certain jewelry styles will actually enhance the beauty and depth of the design. Allowing the natural patina to remain on your jewelry is a personal choice. If you prefer your jewelry to remain shiny, we encourage you to use Sunshine Polishing cloths and then rinse with clean water and dry thoroughly. There are many natural at-home cleaning methods. 


How do I clean my jewelry?
Patina is natural, and oxidation is a normal process with silver jewelry, BUT you can also do a few things if you prefer the shiny look. You can use a treated polishing cloth to lightly buff the surface. We love Sunshine Polishing cloths available for purchase HERE. After buffing, rinse with clean water and dry thoroughly. Avoid harsh chemical dips as these can damage metals and gemstones. Or you can try one of these natural at-home jewelry cleaning recipes below.


Our favorite natural cleaning method for Sterling Silver was given to us by my grandmother, Alice.


Here's what you need:
1) Hot Water (heated in a pot on the stove to boiling)
2) Aluminum foil
3) Washing Soda (this is different than baking soda- but in a pinch use baking soda)
4) Tupperware container


There are two methods you can try:
1) Line the tupperware with the aluminum foil
2) Heat up a pot of hot water
3) Once the hot water boils, add 3-4 TBS washing soda and mix
4) Place your tarnished jewelry on the aluminum foil in the tupperware
5) Pour the hot water & washing soda mixture over your jewel and let it sit
6) After 5 minutes stir the water and flip your jewel
7) After about 10 minutes, remove your jewel with a spoon so you don't burn yourself on the water, and rinse it under running water
8) Rub your jewel with a soft cloth or very soft bristled tooth brush to avoid scratching
9) Repeat if necessary (you may need to make more hot water)
For Bronze try this method:
Here's what you'll need:
1) Fresh Lime Juice from 1 Lime
2) 1 Cup White Vinegar
3) 1 Tsp Salt
Mix all the ingredients in a tupperware bowl and dip your bronze into it & let sit about 3-4 minutes. Remove and rinse under running water and dry with a soft cloth. You may need to repeat or use a soft bristled tooth brush in the mixture to get recessed areas clean.


Will my jewelry turn my skin black or green?
It might. This reaction happens due to the copper content in brass and bronze, and the alloy content in 925 sterling silver. 925 actually means 92.5 % pure silver, 7.5% alloy. We mix silver because pure silver is too soft to wear well without bending and scratching. We use 925 silver as it is the standard industry mix. If your jewelry turns your finger or wrist black or green, you can prevent this by applying a thin layer of clear nail polish to the inside of your piece. All our bronze and brass jewelry has a clear coating pre-applied. This will last a while on earrings, but will wear off over time on surfaces that rub against other surfaces, such as on the insides of rings and bracelets.


Best Practices
 If you want to prolong the shine and beauty of your jewelry, we recommend: 

- Taking your jewelry off before you swim, shower, exercise, clean, cook or put on your favorite scented products

- Storing your jewelry in a clean, dry, air-tight container when you're not wearing it (re-sealable bags plastic bags do the trick)
Shipping and Returns
Free Shipping Information:
Continental USA- Free Standard Shipping via USPS First Class (with tracking) valid on orders over $100+ US Dollars.
Return And Exchange:
We accept returns and exchanges.
Returns within 60 days will be refunded in the full amount minus shipping costs as long as merchandise is returned in its original condition with packaging. If you wish to return an item please e-mail nea@jewelryevolution.com for directions. In your e-mail please include your original order number. Customers will be responsible for return shipping costs.
Exchanges for different sizes or items are accepted as long as merchandise is returned in its original condition with packaging. If you wish to make an exchange, please e-mail nea@jewelryevolution.com for instructions. In your e-mail please include your original order number, and desired exchange item and/or size with shipping address confirmation. Customers will be responsible for shipping costs to exchange an item. As soon as we receive you original item we will ship your exchange item with a confirmation e-mail...Read More
About the Metals
Recycled Silver
We are a proud partner of an Indonesian metal supplier who casts with certified recycled 925 Sterling Silver.
Solid Bronze & Brass
We use solid bronze and brass and apply a clear hypo-allergenic ceramic coating to delay tarnishing.